BDP @ Berlin Art Prize 2014
Broken Dimanche Press along with the Berlin Art Prize would like to invite you to an evening of literature and art on the occasion of the fifth birthday of The Kakofonie – The European Journal of Art and Literature. We started in Berlin in the summer of 2009 with the PDF issue and have gone on to make issues in a deluge of multimedia humility in countless cities across Europe such as Oslo, Dublin, Paris, Milan and Venice. We are very excited to present the complete back catalogue for the first time including issue 007 which has only been presented once before in February 2013 in Milan.

The evening celebrations will begin with a screening of the USA vs Germany at 18:00 at the Kühlhaus Hof Bar before a presentation of the complete back catalogue of The Kakofonie along with readings by:


Siouxzi Mernagh

Hanne Lippard

Cia Rinne

The Kakofonie 008.1, the birthday card interim issue, will also be published on the evening.

DJ: Stephanie Comilang

THE KAKOFONIE 001 Andrea Bedorin / Andrea DeAngelis / John Lalor / Patrick O Beirne / Luke Sheehan / Charlie Stadtlander / Simon Stranger & Susanne Krövel / Christian Ward / Karl Whitney THE KAKOFONIE 002 Jennifer Allen / Alain Badiou / Paal Bjelke Andersen / Djordje Bojic / Will Burns / Darko Dragicevic / Siggi Eggertson / Pia Eikaas / Alan Jude Moore / Agnieszka Roguski / Eirik Sørdal THE KAKOFONIE 003 Siouxzi Mernagh / Matthew MacKisack / Lauren Moffatt / Gabi Schaffner / Kerstin Cmelka / Gerard Carson / Richard Mosse / Pauline Carnier Jardin / Anna Niedhart THE KAKOFONIE 004 Jota Castro / Cia Rinne THE KAKOFONIE 005 Eric Zboya / derek beaulieu / Olivier Maarschalk THE KAKOFONIE 006 Theis Ørntoft / Francisco Queimadela THE KAKOFONIE 007 The Phoenix Atlas (Okke De Groot, Ana Laura Ferreira, Jan Karan) THE KAKOFONIE 008.1 The Birthday Card Issue. BDP @ The Berlin Art Prize. June 26, 7pm KühlhausBerlin, Luckenwalder Str. 3, 10963 Berlin
Language Leaps
languageleaps!
!
John Holten, Saskia Noor Van Imhoff, Calla Henkel and Max Pitergoff Matei Cioata, Hanne Lippard, Lorenzo Sandoval, Marius Engh!
!
Curated by: Adriana Blidaru!
Opening: Wednesday August 28, 19 - 22 h !
With readings by: John Holten at 20 h and Hanne Lippard at 21 h! August 29 - 31 August, 2013!
Potsdamer Strasse 77-87. 10785 Berlin!
"Whip, knock, or lick something into somewhere, extracting it from its background, then creating its boundary. Its orienta- tion. Its position. Its size. Its sex. Depending on if it has hair or not, depending on if it is there or not. Shadow shaped man and man shaped shadow. The first visible outline of a human being who was being human picked up a stone and shaped it into a tool. It is very likely that if you can shape a stone, you can shape a sentence. It is very likely that if you can sharpen a tool, you can sharpen a sentence. It takes two to dialogue. Before a man made hand made man made a chip in the stone, the stone was nothing but a stone on the ground untouched by man. Now the stone is a stone in the hand. Man talks, but in tongues and not in stone. Lick. Lock. Luck. Rock. Tricks in the books. Speeches from below. Memorised clouds. Scented information. Earth shaped man, but even more did man shape man. A fossil is the echo of a once seen being, set in moulds and casts of links and traces. Flies entrapped in amber, mam- moths entombed in the arctic snows, are preserved in their entirety. Whatever brittleness there is about you, it will vanish with silt or sand when time passes. As one knows; the poor jellyfish is after all nothing but a fleeting soul, never given a solid afterlife."!
The exhibition text was written by Hanne Lippard, artist based in Berlin.
BDP Tour 2013
Valencia: Jan 16 - 19. galería rosa.santos. Workshop with John Holten, Lorenzo Sandoval and Rafa Tormo
Salamanca: Feb University of Salamanca Como lo Oyes
Madrid: Feb 13 - 17. Madrid. Public performance
Milan: Feb 21 Launch of The Kakofonie 007
Berlin: Feb 23 Stopoff reading compere performance by John Holten in Altes Finanzamt
Berlin: Mar 13 Stopoff invite to Node Center for Curatorial Studies
Berlin: Mar 19 Stopoff reading with Shane Anderson, Hanne Lippard and John Holten at Mind pirates
London: Apr 6 at X marks the Bökship (Publisher of the Month)
Bristol: tbc
Berlin: Apr 24 GALLERY WEEKEND Office Party at Kinderhook & Caracas
Copenhagen: May 2-4 Overgaden Art Centre (book fair with presentation)
Dublin: tbc
Aachen: May 7-9 Karlspreis
Maastricht: May 8 Work session as part of the Charlemagne European Youth Prize
Reykjavík: May 11, Útúrdúr Bókabúð 7-9pm
Venice: May 28 - Jun 1. Venice train station. Hanne Lippard: Book launch and reading
Hanne Lippard @ Venice
Reading performance & breakfast
May 29 11am-1pm
"Il Campiello" Calle de la Madonna 2234, Dorsoduro 30123, Venice

BDP would cordially like to invite you to a morning brunch of bloodymarys in the patio garden of Il Campiello to officially launch Hanne Lippard's most recent artist's book Nuances of No.

The venue is just a 5 minute walk from Piazzale Roma

Nuances of No
Hanne Lippard
ISBN: 978-3-943196-13-9

www.brokendimanche.eu/hanne-lippard

It is with great pleasure for BDP to announce the publication of Hanne Lippard's Nuances of No, the first comprehensive collection of the artist's text work. Over the last number of years Lippard has built up an impressive and equally idiosyncratic practice based at the meeting point of words, performance and visual art.

When composing her texts Lippard relies on the sounds that they trigger in her mind when she is writing but crucially also when she is speaking. The use of her voice has gained for her a typographical insistence, becoming her main medium of expression whether it be through the linearity of a mechanical narrator or through the use of her voice as a more personified melodic rhythm during her compelling live performances.

Her affinity with common speech ensures that hers is nothing less than a poetry that all of us can recognize. Common sayings, turns of phrase, everyday chitchat become for her a repeated chorus rather than a coherent meaningful construction of words: with Lippard they become melodies in themselves.

Aphorisms, love-songs, voicemails, quotes and slogans lose or gain value depending on how they are re-arranged and performed – in Nuances of No Lippard reclaims language for her own end to try and overcome any overruling claim to authorship. At times graphic, playful and intimate, this is an artist using language in all its forms in an effort to create an original aesthetic of the word.


Hanne Lippard (b. 1984, Milton Keyes) graduated from the Rietveld Academy in Amsterdam in 2010. Her most recent exhibitions have been in Galerie Nord, Berlin, Marres, Maastricht, Suvi Lehtinen Gallery, Berlin in collaboration with Kati Kärki, TETO projects, Amsterdam and Spike Island, Bristol. She has most recently performed in Badische Kunstverein in Karlsruhe, ARCO Madrid 2012, The Showroom, London, Frutta Gallery, Rome, Poesia en Voz, Mexico City www.hannelippard.com
Affect Residency @ Agora
PUBLICATION
Facilitated by John Holten
Throughout the 3 months of the program, the participants will be accompanied by John Holten, co-founder and editor-in-chief of Broken Dimanche Press. Together with the 8 participants, Broken Dimanche Press will be developing a publication of the entire project.
AFFECT provides the opportunity for a comprehensive research to determine the artist's position in an ever-fluctuating socio-political landscape. This program at Agora is a catalyst for participating artists to investigate established views on communities, movements and networking. These factors are deeply rooted in Berlin and provide fertile soil for expansion of knowledge within artistic practices today.
Agora's collaborative identity is reflected in AFFECT. Significant elements of this program are the encounters with professionals based in Berlin, with whom Agora has established partnerships: spaces, artists, curators and a range of cross-disciplinary professionals. These encounters stimulate the participants in their research and provide the necessary tools to let their efforts manifest themselves. Participants are assisted in producing pieces, developing talks, collaborating with other initiatives and in meeting communities that they want to involve in their research.
The first part of AFFECT is designated for participants to establish their individual position within not only the residency but also the context of Berlin. This is accomplished by means of open public presentations and exhibitions of the participants' own works and practices at Agora.
After the artists have established themselves, the program moves into a collaborative construction. Transposing the program to a collaborative framework means that a temporary community is formed. The particular dynamics of such a group gives the artists the environment to productively experiment with the issues at hand. The group develops concepts that are materialized according to the negotiations and agreements they set up.
Subsequently, artists are invited to show their work in a city teeming with cultural history and development. The outcome of the research will be presented at an off-site location hosted by one of the partner spaces. The artists have free access to the exhibition space in the time leading up to the conclusion of the program with a curator involved to facilitate the process. Agora AFFECT will be concluded with the event that the participating artists produce at this location.
The outcome of the research and conclusion of Affect will be presented and hosted by one of Agora's partner spaces at the end of each module.
There is almost always a void between socio-political goals and realties of their contexts. This void is the discrepancy between expectation and outcome. Agora believes that the artist's role manifests itself in the discrepancy between the issues raised and solutions that solve them.
Ivy Over Ivy
Ivy Over Ivy
Permanent Exhibition & Raumgestaltung of Büro BDP
Lorenzo Sandoval

BrokenToujours.eu
Website launch party

Vernissage August 31, 19h – 22h30
Refreshments: Barefoot Wine
We are delighted to announce the on-going collaboration between BDP and artist Lorenzo Sandoval with the unveiling of a new office interior by the artist, incorporating the installation Ivy over Ivy, a permanent exhibition working in unison with a rotating, carefully selected number of books on show.
The use of a street level shopfront such as Büro BDP offers Broken Dimanche Press a space that has, although limited in dimensions and form, the possibility to extend, expand and distort. Located on the quieter end of Emserstrasse on a street in the process of undergoing a transformation as more and more people from around the world move it to live and work, the reflection of Sandoval's furniture, together with the ivy that slowly covers the monumental – the book as totem no less – and the use of Robert Hubert's depiction of the Louvre as a ransacked ruin, all work as a comment on the changing reality of both Berlin, but also the agency of Broken Dimanche Press - in space, in Neukölln.
As a venue where contemporary visual culture and books – two of BDP's preoccupations – can be presented to the public and worked with, it will from August 31 onwards be open to the public with a tailored room architecture that will compliment the work BDP carries out in it.
The system of Sandoval has been seen most recently in the exhibition Circuito Berlin in the Cervantes Institute and also in The Rescue of the Effects at General Public. For both exhibitions the artist installed carefully planned walls and other structures including tables, chairs and moveable panels all of which housed artworks, publications and screens. Echoing perhaps some of the early work of Dieter Roth such as his chairs but also his monumental work 'Gartenskulptur', the fixed nature of the walls will be broken with the growth of ivy, giving time the chance to leave its own trace in the space.
Lorenzo Sandoval (Madrid, 1980) lives and works in Berlin. He is a cultural producer and independent investigator focusing on collective processes and self-managed organizations, from the point of view of artistic creation and curating. In 2011 he won the Con Felipa commission prize and the curatorial prize of Nogueras Blanchard.
www.cargocollective.com/lorenzosandoval
A contributor to BrokenToujours.eu, Sandoval will be publishing with BDP in 2013.

His areas of interest include microhistory, contemporary utopian architectural forms, the analysis of the technology of representation and the resultant choreography of the movements led by urban planning and design. Holds a B.F.A from the UPV, (Universitat Politécnica de Valéncia), and a Masters in Photography, Art and Technology, with a scholarship from the attending University. Has had international residencies in Berlin, (GlougauAIR), Vila Nova, Portugal, (for the University of Porto), and in Nairobi, (Kuona Trust Studio); was production manager in the EACC, (Espai d'Art Contemporani de Castelló), and assistant in the Maribel López Gallery.

He is a member of LaTejedoraCCEC, BarraDiagonal and Piso, and is one of the founding members of the group Altes Finanzamt. In this space he commissions the exhibition programme. As commissioner, he prepared together with Emanuele Guidi, the project Visualizing Transnationalism within the framework of the Transeuropean Festival and Around is Impossible, in La Casa Encendida. In General Public, he presented the project The Rescue of the Effects. Notes for a theory of the Reader. Recently, he had prepared (…) Science, territory and subjective narratives for the Can Felipa commission prize and Liminal Rites for the curatorial prize of Nogueras Blanchard.

www.cargocollective.com/ lorenzosandoval
|Büro BDP | Emserstrasse 43 | Neukölln | brokendimanche.eu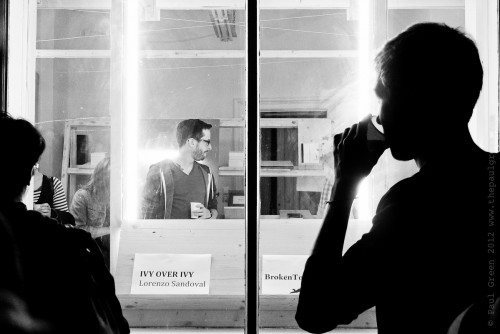 Wordpharmacy
Wordpharmacy
Morten Søndergaard
Büro BDP
Febuary 3 – 16
Vernissage Feb. 2 19 – 22h
Opening times 14-18h and by appointment
Broken Dimanche Press is proud to announce the exhibition Wordpharmacy by Danish writer and artist Morten Søndergaard. To coincide with the publication baring the same name,Wordpharmacy is a visual installation that celebrates this ambitious semantic and medicinal project. Playfully equating the structure of language with pharmaceutical products, the publication consists of ten medicine boxes, each representing one of the ten word-groups. Each box contains a leaflet that functions as an instructional poem, guiding the reader's ingestion of the given word group. In order to fully realise the helpful nature, Broken Dimanche Press are happy to have our Büro transformed by Søndergaard into a literary pharmacy, including authentic apothecary fixtures and fittings.
By rewriting already existing instructions for the use of medicine, Wordpharmacy playfully intertwines the structure of language with the healing principles of various medicaments. Like pills, language is something to be consumed by the body, and in turn it does not only affect our conceptions of things, but it also comes to designate our very corporal movability in the world. The artist himself will be present during Wordpharmacy, ready to prescribe suitable words for bodily as well as psychological malfunction.
Morten Søndergaard's (born 1964) debut collection of poetry, Sahara i mine hænder (Sahara In My Hands) from 1992 has been followed by a succession of works which have won him both critical acclaim and a number of literary awards. He was twice nominated for the Nordic Council Prize for Literature, and his books have been translated many languages. Constantly exploring new ways to present language, Morten Søndergaard has produced musical and dramatic works and in recordings, exhibitions and installations centred on language, sound and movement. In its Danish version, Wordpharmacy has previously been exhibited at Nikolaj Copenhagen Contemporary Arts Center, Bakkehusmuseet and at The Skovgaard Museum.
Wordpharmacy is translated by Barbara Haveland, designed by Christian Ramsø and published by Broken Dimanche Press. The project is supported by The Danish Arts Council Committee for Visual Arts and The Danish Arts Council Committee for Literature.
Sophia Le Fraga @ Büro BDP
Two works by Sophia Le Fraga
Büro BDP
July 7, 2011, From 18.00 to 20.00 pm
As a part of our exhibition series Exhibiting Literature, Büro BDP is proud
to present American writer Sophia Le Fraga. Le Fraga's conceptual writings
often evolve around playful appropriations, erasures or cut-ups of already
existing texts. Her poems investigates the various possibilities of inserting
competing systems of signification within already given semantic structures,
hereby challenging, questioning and expanding our general use of language.
For her exhibition at Büro BDP, La Fraga will show two poem-installations,
which both deploy visual-aesthetic elements as crucial part-takers in the
poems' formation of meaning. In these works color, image and space become
exactly as significant as the words themselves, hereby opening for the
possibility of remolding text into icon, and poem into painting.
Sophia Le Fraga (1990), raised in New York is finishing her B.A in Linguistics
and Poetry at New York University. Her work has appeared in The Last
Romantics, The Stolen Island Review and Lemon Hound. She currently
resides in Berlin.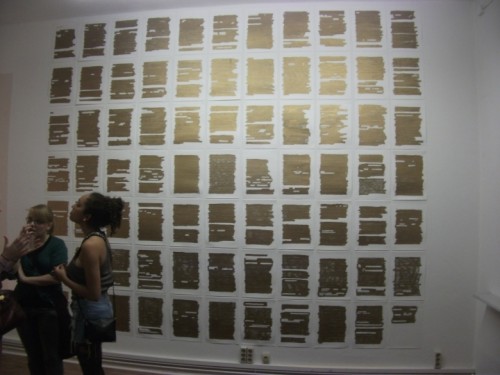 Exhibiting Literature
Exhibiting Literature
Ida Bencke
John Holten
Language is normally something we read, say or hear. It is something that unfolds itself in the linear and continuous time it takes to finish a sentence, listen to someone reciting a poem, or read a novel from beginning to end. Here, language holds the promise of disclosing a meaning, which we either understand or do not understand, depending on which tongues or interpretative skills we master. And this kind of utterance is as excluding as it is welcoming for the initiated – the words are as comprehensible for those who already understand, as they are wholly illegible for those on the outside.
Because images speak an iconographic and trans-linguistic vocabulary, the visual arts thrive on an international cultural arena, whereas literature – hopelessly restricted by the limits of language-regions – is struggling to keep up the pace. As a European publishing house working in the space between text and image, this is a problem Broken Dimanche Press is faced with every day. We find ourselves in a happy state of linguistic exile: situated in Berlin, but not mastering German fluently and speaking a variety of more or less broken languages – this is our linguistic reality. We have come to realise that as a publishing house, we epitomise a decidedly contemporary linguistic tendency: the destabilisation of national languages, people constantly thrown out of their native tongues; all of us meeting each other on more or less foreign linguistic grounds.
With our exhibitions series Exhibiting Literature, we would like to explore the various communicative possibilities that exist in the non-semantic, spatial and visual qualities of language. Here we would like to pose the simple question: how does one linguistically articulate, mediate and give rise to an experience, which transcends national and linguistic borders? What happens when language simply installs itself as a physical reality in space?
Ezra Pound, who has delivered many a favourite quote to the world of literature, famously stated: 'literature is simply language charged with meaning to the outmost possible degree' and posited that the poem was the locus classicus where the semantic potential of language found its zenith. Normally, we read poems with the belief that the words contain a certain code to be deciphered: with a meaning that lies somewhere beyond the mystifying exterior of the words, a promised land of transcendental significance. From this perspective, the physicality of words – their shape and their sound – function merely as meaning's servant. But a language that is encountered rather than understood, a language that is seen rather than deciphered is also a language, which installs itself as a thing on the same phenomenological level as that of the body. A poem, for example, which takes on the form of an object, perceivable and accessible to all.
Through this very phenomenological status language takes on an existence of its own – for a while liberated from the artfully speaking cogito. Language in concrete space rather than in abstract time: a sculpture made out of words. There is something, is there not, decidedly inhumane about words in their phenomenological being that their significance escapes our full control? When letters become material – curves and colour – language approaches a potential innocence. And old story, as you know, but a story worth retelling. Attempting, once again, to let language speak for itself.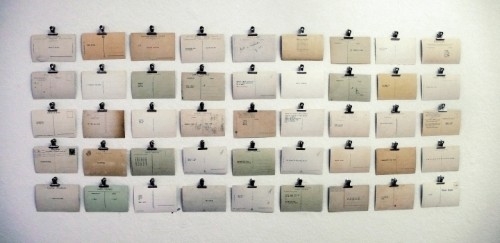 ...ment @ Büro BDP
We are very happy to announce a collaboration with ...ment
....ment is an initiative run by Federica Bueti, Benoit Loiseau, Clara Meister.
http://journalment.org/
Welfare State...ment
Wednesday 29th June from 6pm
BDP Büro
Emserstrasse 43 in Neukölln, Berlin
(nearest Ubahn: Hermannstrasse)


To further discuss and investigate the complexity of Welfare State …ment will expand its usual editorial format to take the form of a public discussion. The event invites artists, curators and cultural practitioners to answer the following question:
How does society produce artists?
The Statement will give the opportunity to articulate further reflections on the role of educational, cultural and social institutions in current cultural and artistic production. The same question has been previously answered by artist and theorist Liam Gillick in a 5m 26s audio piece included in the audio-collection Liam Gillick. An Idea Just Out of Reach.
Gillick's audio piece reflects and problematizes the role of art institutions and centres of power in the formation of individual and collective artist's subjectivity. In a related text the artist pointed out:
The challenge is the supposition that artists today—whether they like it or not—have fallen into a trap that is pre-determined by their existence within a regime that is centred on a rampant capitalization of the mind. The accusation inherent in the question is that artists are at best the ultimate freelance knowledge workers and at worst barely capable of distinguishing themselves from the consuming desire to work at all times, neurotic people who deploy a series of practices that coincide quite neatly with the requirements of the neoliberal, predatory, continually mutating capitalism of the every moment.
Artists are people who behave, communicate, and innovate in the same manner as those who spend their days trying to capitalize every moment and exchange of daily life. They offer no alternative to this. (Excerpt from The Good of Work, edited by Brian Kuan Wood and published online by e-flux journal, NY, 2010).
We want to propose again the same question with the aim to start a fruitful debate on this and other relevant issues in the form of 5m 26s public statements. The statement is generally required when an artist or cultural worker wants to apply for schools, residences, jobs, awards and other forms of institutional support. However, the statement resembles and derives in part from avant-garde manifestos, where it was an expression of criticism and dissensus.
We would like to use the Statement as a form of individual participation and of collective responsibility. The event will be realised in collaboration with Broken Dimanche Press, an independent publishing initiative founded and directed by John Holten and Line Madsen Simenstad and it will be accompanied by the sound piece by Liam Gillick and a spatial intervention by Riccardo Benassi. The event will take place on June 29th 2011 6pm at Büro BDP Broken Dimanche Press' office.
Emserstrasse 43 in Neukoelln,
U&Sbahn: Hermannstrasse
Martin John Callanan @ Büro BDP
Broken Dimanche Press are delighted to announce that Büro BDP will be inaugurated with Martin John Callanan and The MINI Museum of XXI Century Arts.

Since 2007, Callanan has linked his status updates across social networking sites to display messages in unison. The updates always read "Martin John Callanan is okay", with corresponding dates to show when they were published.

For the first exhibition at Büro BDP, Callanan has printed all the status updates on a single table sized sheet of roll paper. Using the obsolete technology of a pen plotter, which marks the text onto the paper with a standard writing pen, the text characters have been reproduced with machine precision. After the opening night, the table will gradually revert to it's everyday use as an office desk.

The 209 updates are displayed sequentially in reverse chronological order on the MINI Museum of XXI Century Art which occupies the window on Emserstrasse.


Opening & BBQ: Thursday 21 April 2011, 7-11pm.
Show: 22 April - 5 May 2011

Büro BDP
Emserstrasse 43 / 12051-Berlin

http://greyisgood.eu/
http://brokendimanche.eu/
http://theminimuseum.org/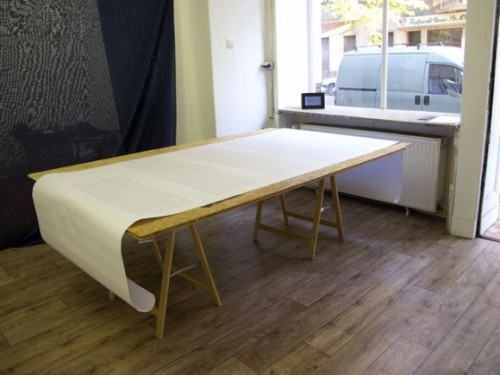 Broken Toujours
Broken Toujours was an online daily journal that ran for 90 days exactly in the autumn of 2012.